Posted by Marisa February 19th, 2009 at 11:30am In Futurama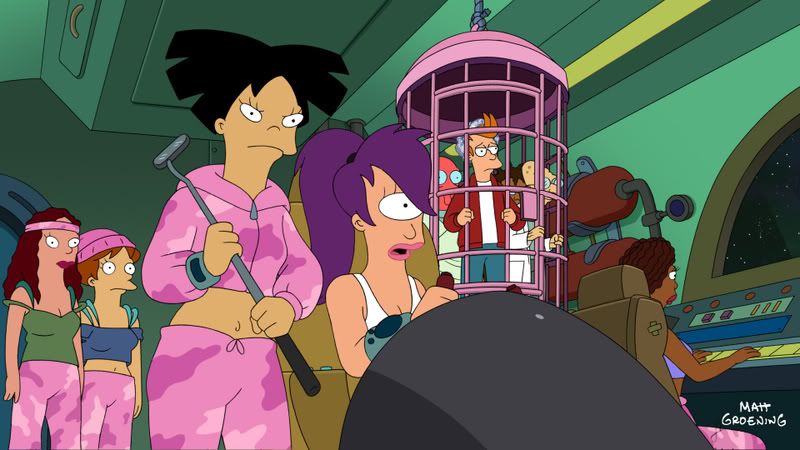 In general—and I know we've argued about this before—I'm wary of movies based on canceled TV shows. Last summer's X-Files and Sex and the City movies really put the final nail in that coffin. I feel like there are two traps that these films keep falling into: shoehorning in every character, whether the story requires it or not, to please fans, and coming up with wacky, globe-trotting plots to justify the leap from small to big screen. Why did Sex and the City spend multiple scenes telling us that there was nothing going on with Charlotte? Did The Simpsons really benefit from leaving Springfield and going on a wild journey to Alaska? Both of these mistakes reinforce that some stories are better told in small, episodic chunks, while others are best taken in all at once.
Of course, there are made-from-TV movies that I really do like. In general, the ones I think fare the best tend to be animated: Beavis & Butthead Do America, The Aqua Teen Hunger Force Moviefilm for Theaters, and, of course, the four direct-to-DVD films of Futurama.
Maybe the Futurama films made it through the transition to film unscathed because they knew from the outset there'd be four of them. They didn't have to make sure that Morbo and the Hedonism Bot and the Hyper-Chicken lawyer and all the rest were somehow included—they could spread them out over eight hours of storylines. On the other hand, it was kind of an iffy format to work with. The releases are movies that were never intended to be released theatrically, but had the possibility of being chopped up and aired on Cartoon Network or Comedy Central as individual episodes, so the creators had to make sure they worked in all of those situations.
I think the creators succeeded completely. The last of the movies, Into the Wild Green Yonder, comes out this Tuesday. I've seen it thanks to my upstairs neighbor, who was vigilantly checking the city's sketchy video stores hoping that one would put it out early, and was kind enough to share it when he found one that did. I think it's not only the best of the bunch, but really rounds out a series of movies that all each have a very different vibe to them, but all still feel like Futurama. Here, a quick guide: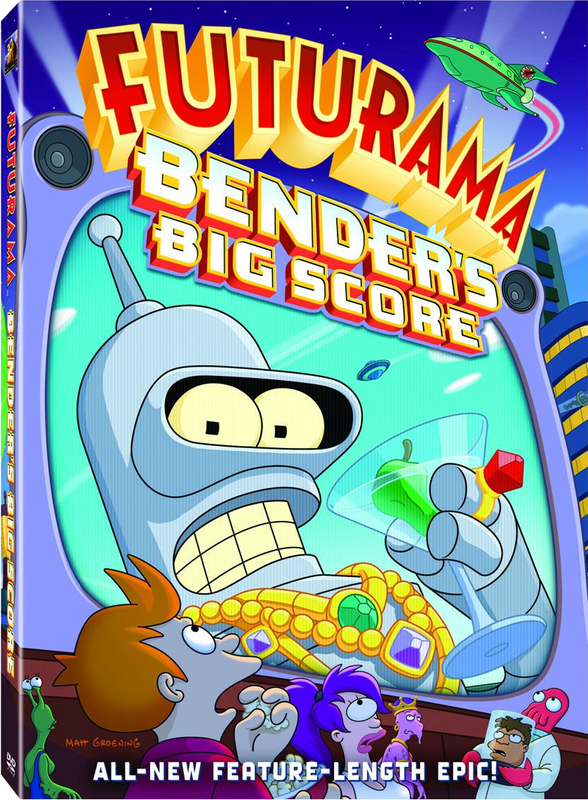 Bender's Big Score
The series ended on a bittersweet note that I still find hard to watch sometimes, so this movie had to go forward without ruining that ending. It accomplishes that by being the most emotional of the four films, revisiting Fry's never-ending quest to win Leela's heart. Of course, since it's Futurama, there's also a mind-bending time-travel element that's both hard to untangle and spurred on by some truly disgusting aliens. You can wash the gross taste out of your mouth by watching the best feature ever included on a Futurama DVD: a math lecture that explains all of the really, really geeky math jokes in the series that might go unnoticed by non-supernerds.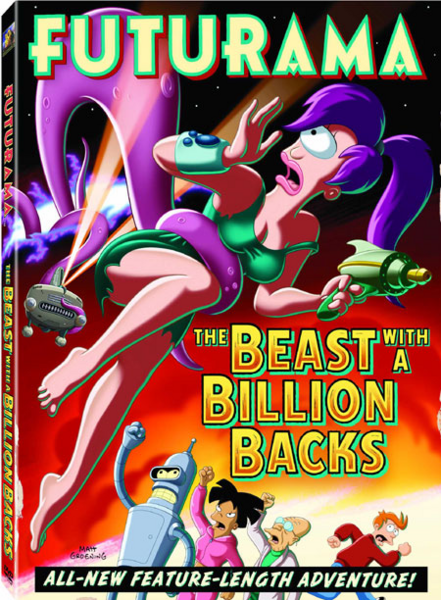 The Beast with a Billion Backs
If Bender's Big Score strove to be cerebral and poignant, The Beast with a Billion Backs aspires to be cynical and revolting. It's the Invasion of the Body Snatchers to Score's Primer. It's got a B-movie feel and much less ambition. This time, Fry—disillusioned about love due to the events in the previous film—tries his luck at polyamory with the help of a planet-sized, many-tentacled being name Yivo who tries to date all of Earth at once. The good news is the distrustful attitude toward love means this movie is much funnier than the previous film. These characters are supposed to be bitter—hopeful and idealistic doesn't make for good gags. The bad news is that Yivo is really off-putting. Somehow, being voiced by David Cross makes him totally repellant. There is a subplot about Bender trying to take over the world (again) that dulls some of that foul pain.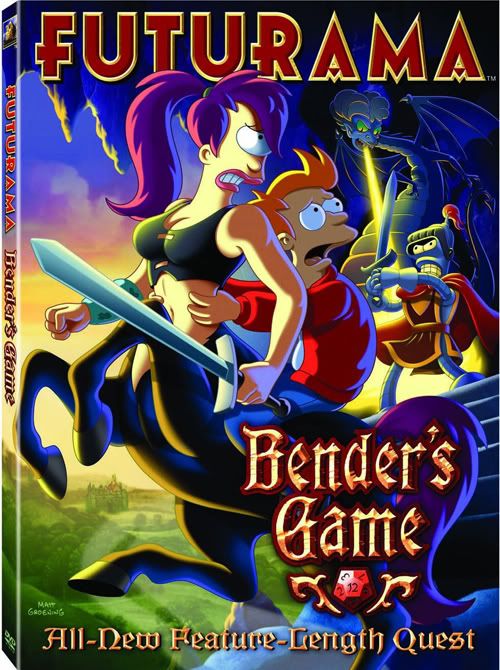 Bender's Game
So they did sci-fi, they did B-movie, what other geeky genres are left to embody? Ah yes, fantasy. In Bender's Game, Bender's desire to activate his "imagination chip" somehow transports them all into a Dungeons-and-Lord-of-the-Rings-style universe. Obviously, the writers are in their element. Turning their characters into wizards, centaurs, and Gollumesque creatures comes a little too naturally. The downside is that this is the movie that suffers most from the plan to be chopped up into individual episodes. It doesn't flow as smoothly as a feature should. But, damn, a 20-sided die looks great animated in 3D.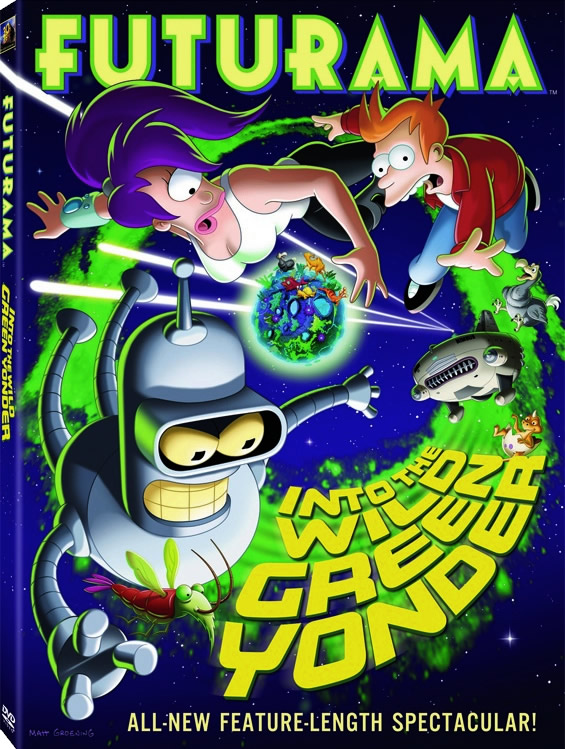 Into the Wild Green Yonder
The last film in the four-dvd series isn't a take on any kind of genre and, as a result, feels the most like Futurama. The plot evolves from the simple romantic tensions of the earlier films into a full-blown war of the sexes, with the ladies (lead by Leela) trying to stop the men (lead by Amy's dad) from developing tracts of outer space. But here, the plot feels almost secondary to the parade of gags and callbacks: Nixon, Fry's missing brainwave, the ill-fated Waterfall family, the list goes on and on. Plus, it has an ending that could work as the ending for the series, and just like the last episode that aired on Fox, it packs kind of a punch. This DVD has the second-best special feature, a behind-the-scenes look that makes Lauren Tom (Amy) seem like the Kelly Kapoor of Futurama. Watch a trailer here: