Posted by Marisa April 2nd, 2009 at 10:00am In General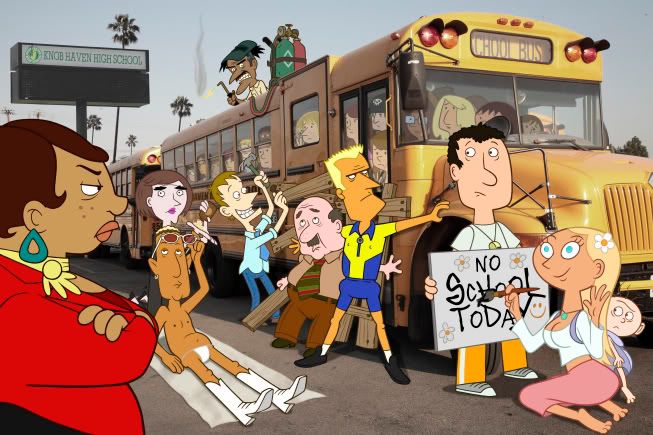 Okay, so I wasn't the only one on the line. But I still participated in a Fox conference call with Mitch Hurwitz and Will Forte about the upcoming Sit Down Shut Up, their new animated show that focuses on a group of self-involved Floridian teachers. As if I wasn't already chomping at the bit for the show's debut to arrive—April 19 at 8:30 ET, y'all—what I heard on the phone made me even more excited.
First off, I know we all already love a great majority of the people involved in the show, including most of the producers (Mitchell Hurwitz, Josh Weinstein) and a lot of the voice actors (Will Arnett, Jason Bateman, Kristin Chenoweth, Will Forte, Kenan Thompson, Henry Winkler, etc.). So, what name could possibly be added to this roster to make the show seem EVEN MORE AWESOME? I don't know, how about MO WILLEMS?
Someone asked about how they came up with the idea to put animated characters against live-action, photographic backgrounds, and Hurwitz said that the main inspiration was Knuffle Bunny. You can definitely see what he's talking about if you use Amazon to flip through the first few pages of Knuffle Bunny. (Then you should use Amazon to buy it, because we love it, along with the Pigeon books.) Hurwitz went on to say that Mo Willems even designed the characters for Sit Down, Shut Up. You can totally see it in the blonde chick with the flower in her hair. It's not a secret or anything, but the reason the Willems connection hasn't really been promoted is that he's so known for children's books, and a lot of the jokes in SDSU are wildly inappropriate for children. "Some of them are even inappropriate for Will Forte," Hurwitz said. (Sorry, Mo, we're blowing your cover—but it's because we love you.)
Other than that, the conference call just seemed like a big ol' love fest. "You are so funny on the show," Hurwitz said to Forte. "I feel like we're working with Jim Carrey before he made Ace Ventura."
Forte was equally complimentary about the shows scripts: "There are so many jokes in there that I can't process them all."
Hurwitz even had nice words to say about Fox, even though they canceled Arrested Development, saying that they're basically the only network that's still willing to take a chance on animation.
Animation is what's going to allow SDSU to push things a little further than they could on Arrested Development. Hurwitz said that when he was shopping the show as a live-action feature, networks said that "the characters were way too broad, self-centered, and oblivious," and that he had to rewrite it. Rather than soften their edges, he pitched it again as an animated series. The jokes that seemed too broad for live action suddenly were too tame for animation. "It's more joke intensive," he said, "and less about grounding a character's drive." The characters now, he says, are "all equally clueless and equally self-involved," and are so selfish that "the students are as integral to the show as the paper products are to The Office."
It all sounds good to me. I've never worked in a hospital or in a police station, but man have I had my run-ins with burned-out teachers. Pushing the characters so that they're even more self-centered than the ones on The Office makes it sound even better. Then, doing a cool live action/animation hybrid designed by Mo Willems on top and, well, you know where I'll be on April 19 (8:30 pm ET).
PS: I guess every Mitch Hurwitz post has to end with an update on the Arrested Development movie. He hasn't written it yet. "We're still assembling the pieces," he said.