Listen. We need to talk about your porn habit. It's getting a little, well, weird.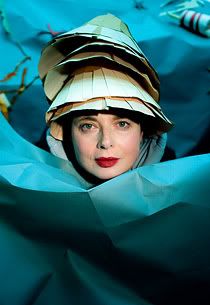 I understand the first part. Isabella Rossellini is beautiful. Who wouldn't want to see her star in a dirty Internet video? So, when you saw a link that said Green Porno, and saw her name attached to it, I can't blame you for clicking.
Also, I realize that penises in porn movies are supposed to be comically large. But, seriously, some of the ones in those videos are bigger than she is. It's not just that they're scarily oversize, they're…not human. Then…Oh God. Is she dressed like a whale, with a six-foot whale erection? She is! And she's totally boning that lady-whale GOOD GOD THIS IS STRANGE.
I must admit, there's something oddly adorable about the way she, while dressed as a pile of sexually amorphous limpets gettin' it on, triumphantly shouts, "We're sequential hermaphrodites!" I'll also allow that it's easy to get sucked in, with each of these little videos taking less than two minutes (much less, if you skip the credits). And sure, people only watch nature documentaries to catch glimpses of animals doin' it, so there must be something compelling about a series devoted to undersea animals getting their grooves back.
But, really, can't you just watch PornHub like everyone else?
No?
Well, then, the second season of Green Porno is currently streaming on The Sundance Channel.
1 comment April 17th, 2009