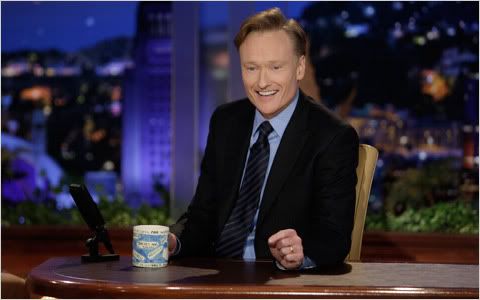 Are you all watching Conan O'Brien's first week as host of The Tonight Show? If not, how can you compare him, either favorably or unfavorably, to Letterman and Leno? How can you say he's gone too soft in his old-person-friendly new time slot? How are you going to decide where he fits in the pantheon of Tonight Show hosts? How are you going to predict his ratings from now through infinity?
Who cares, you say? It's only been three lousy episodes, you say? It's too soon to tell, you say?
Well, I completely agree. I feel like with this and with Jimmy Fallon's debut, people jumped in with their opinions while the credits were barely rolling on premiere night. This time, they were eager to say that Conan is both more of a comedian's comedian than Leno ever was and that he's a sellout for not trotting out the Masturbating Bear on the first night. Writers even made a huge deal over his Letterman-beating first-night numbers, with TV Guide noting that the show posted "the best numbers for a Monday Tonight Show in more than four years," as if that's going to mean anything in the long run.
I'm happy that he's on earlier, so I can watch his show. That's really as far as I'll go with that right now.
If you're somehow interested in this horse race, I'll put a round-up of some knee-jerk judgments after the break. In general, they seem pretty positive, which does make me happy.
Click to continue reading "The Conan O Show"
2 comments June 4th, 2009