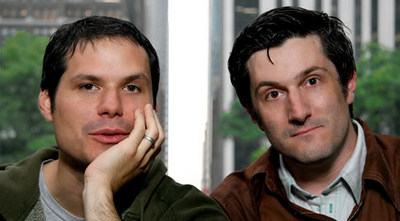 So, I experienced a weird, personal collapse of the space-time continuum. I was watching a lot of The State (plug: I watched it for a PopMatters review ) right when Michael & Michael Have Issues debuted. 1995 collided with 2009, and I had the urge to dig out my old flannel again (though that happens every so often no matter what).
Can I just say that I'm amazed it took this long for The State to make it to DVD? I love that show, but up until last week I really only loved my memories of it. Even though the members of The State pop up in comedies all over the place–and there are 11 of them, so they can do a lot of damage when they divide and conquer–I guess MTV/Paramount didn't think the show had a big enough audience to make a DVD set (and clearing all the music rights therein) worthwhile.
I'm glad they changed their minds. I was afraid when I got the DVDs that the humor wouldn't hold up over time, but most of it does because the gags are more absurd than of-the-moment. I managed to locate my exact favorite episode–the first episode of the second season, the one with the talk show about monkey torture–and it's still just as funny as I remember.
What I didn't remember, though, is how high-energy the show is. It's like they tried to smooth over their inexperience by being really frantic and moving really fast. Watching it now, the quickness just makes the series seem puppyish.
Now Michael Ian Black and Michael Showalter are no longer puppies. Their new show is slowed down considerably, and I think they've learned that faster doesn't necessarily equal funnier. They've also honed their personas in ways you can only see traces of in The State. Michael Ian Black, in particular, addresses the camera directly in a few of the sketches on The State, beginning his monologues with "Hi, I'm an on-air personality," so you can see the roots of the "Michael Ian Black is a very famous celebrity" attitude that he still keeps up on Michael and Michael Have Issues. Since they're sitting a little bit more in their comfort zones, and basing their comedy off of heightened versions of their own personalities, they're missing some of the absurdity of The State or even Stella.
Basically, I just want them to bring back the monkey torture.
2 comments July 23rd, 2009