Posted by Marisa August 11th, 2009 at 11:13am In General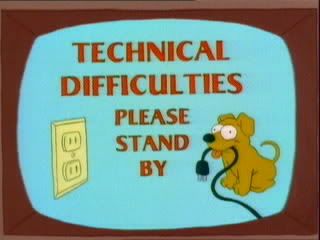 That thud you  hear? That's us running head-first into the end-of-summer TV doldrums. Sure, when I turn on the ol' tube, there's stuff there–but is any of it worth watching? Anything? Is anyone psyched that Who Wants to Be a Millionaire is back on? Did anyone catch the premiere of Shark Tank? Who tuned in to the Teen Choice Awards? I'm getting a distinct "null set" vibe from these questions.
Until the fall TV shows start rolling out–or at least until the Degrassi made-for-TV movie (this Friday!)–let's see what else is going on, shall we? Here's a brief check-in with some other areas of popular culture that may not be experiencing as much of a lull.
Movies: The big blockbusters are mostly behind us, but the Internet has nothing but raputorous things to say about this weekend's District 9. Quentin Tarantino is always good for a larf, so we should all expect some craziness from his absurdly spelled Inglourious Basterds.
Movie Trailers: An artform in and of themselves, you'd be remiss if you didn't watch the new trailer for Where the Wild Things Are, as well as the trailers for Alice in Wonderland and A Serious Man.
Music: Dan and Jesse might know better if any great albums are coming out before the end of summer, but right now I'm pretty happy about Heath Ledger's video for Modest Mouse's King Rat. (Hey, a music video is kind of like watching TV!)
Books: I just read the Time Traveler's Wife in preparation for the awful-looking movie this weekend and it was wonderful, but in case you're not looking for books that are four years old, there's a new Thomas Pynchon novel out that's supposed to be pretty good, and another one of those Philippa Gregory books comes out soon if that's your thing.
Internet Nerdery: Facebook bought FriendFeed? Who cares–we're Twitter people. That reminds me: Follow us on Twitter.
There, that should tide us over for the next couple of weeks, when we can go back to being couch potatoes (as is our natural state).