Posted by Marisa May 14th, 2010 at 09:38am In 30 Rock Community Parks and Recreation The Office Who Won Thursday?
Look! A full post! On Friday, no less! And for a really tough week, too, because all four NBC comedies had me laughing out loud.
Let's get to it.
Community: English as a Second Language
I hate how this show constantly boils down to a struggle between friendship and personal gain, with friendship always winning out. They really need a new conflict. No one loves her friends more than I do, but I'd seriously reconsider my relationships if I kept having to prove them on a weekly basis.
Parks & Recreation: The Master Plan
Who would've guessed that April and Andy would be the will-they-or-won't-they relationship in this show? I pretty much love that, because it's not like they're Jim and Pam, two sweet people destined to be together and have the cutest relationship ever. It's harder to root for them, but you can't help yourself.
The Office: The Chump
I adore it when the whole office gets together to try and work something out. In this episode, it was how to shoot Toby, Hitler, and Osama bin Laden with only two bullets. The episode pretty much peaked there.
30 Rock: Emanuelle Goes to Dinosaur Land
All the boyfriends return! Including the beeper king! And Wesley Snipes! (Though Wesley's talking about "Russ and Rebecca" on "Chums" is no "gang way for foot cycle.") It pleases me that all these guest stars seem game to return and be silly, like old John "Hook Hands" Hamm. (Knowing 30 Rock, though, they're probably in it for the Emmys.) However, I find myself not really caring about Jack's romantic dilemma. Perhaps that's because, if I were Jack, I would have chosen Elizabeth Banks WEEKS AGO.
So, who won Thursday?
Parks & Recreation
Why? The faces. I know making silly faces shouldn't be considered the highest form of comedy. I know it's cheesy, and they're right to make fun of Jim on The Office for smirking all the damn time. But, seriously, Parks & Recreation had some of the funniest faces last night. There was April's withering disgusted face (though she does that every week, so it's not much of a treat). There was Rob Lowe's psycho stare when he pointed at people and repeated their names. There was Ron's delighted grin whenever they talked about shutting down the local government. Then, my favorite of all, was Tom Haverford's beaming smile when he got the bartender's phone number. Did he, or did he not, look just like this: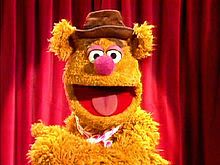 And that, my friends, wins it for Parks & Rec this week.